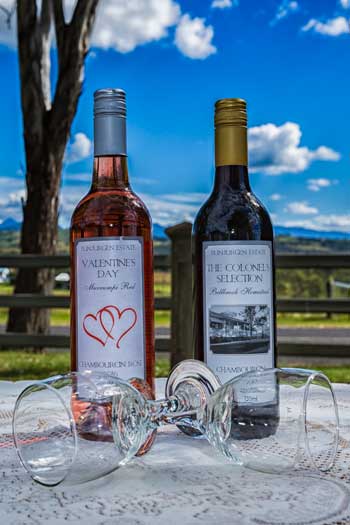 Bunjurgen Estate verjuice, wines and ports are made at Ballandean Estate winery located at Ballandean on the Granite Belt just south of Stanthorpe. Ballandean Estate has a well-known reputation as a leading Queensland winery and the winemaker and the Bunjurgen Estate executive tasting team deliberate and discuss each year's vintage and ensure that the verjuice, wines and ports produce a unique finish and our desired market appeal.
Ballandean Estate produces, bottles, labels and packs our wine for return to Bunjurgen Estate where it is stored in a controlled climate environment between 15 and 18°C, and then sold from our Cellar Door to both individual and corporate clients. The cool Barrel Room is the scene of pleasant summer tastings - a much sought after haven, when the outside temperature is in the fiery 40-degree range!
Our ports are returned from Ballandean Estate in bulk, and then transferred to barrels which are stored in our Barrel Hall for the necessary periods – 6 years in the case of our Bunyip Port – lesser with the White and Cherry Ports. The ports are decanted and the required volumes are sent to the Hunter Valley for bottling and returned to Bunjurgen Estate for sale.